Fall Mini Sessions
Fall is a great time of year! The leaves are changing, pumpkin spice lattes are finally available and the studio is filled with pumpkins.

This year, I've got two new sets and I'm bringing back an old favorite. Sunflowers make for the perfect transition from summer to fall and the warm autumn colors make me want to cuddle up by a fire.

The whimsical pumpkin house is great for little ones who crave adventure and like to let their imagination go wild!
Sunflower Craze
This chic sunflower set is all about celebrating the beginning of fall. It's still got the bright feel of summer, but the warm tones of autumn are shining through.

This set comes with access to the client closet which has sunflower outfits for girls from 12 months through 6 years old. Of course, you are welcome to bring your own clothes if you'd like something a little different than sunflowers.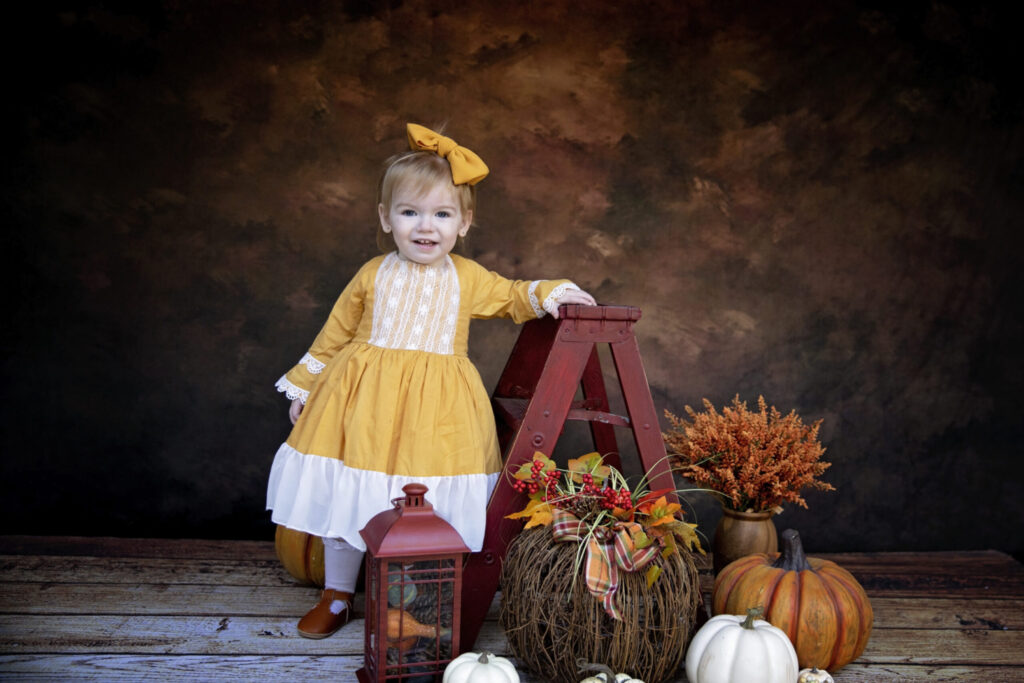 Shades of Autumn
This set is great for little ones, even the ones that can't quite walk yet or could do with a little extra support. It's a small set with tons of charm.

These sessions also come with access to the client closet with an assortment of dresses in fall colors for your little one.
(Coming Soon)
Pumpkin Magic
This is a new set this year and I love it! I've got tons of pumpkins to add and your little one has all the smiles to make this set just perfect. This set will have all the fall colors and rustic vides. I can't wait to see what your kids will do with this background.
Looking for Fall Family Sessions?
Fall family sessions are in full swing throughout San Luis Obispo County. I've got nine different dates for family photos this year and locations vary. These fill up fast every year, so be sure to book early!
Summer Mini Sessions
Summer mini sessions are bright and fun with lots of creativity in the studio. Your little ones are sure to have a blast in the studio this summer!
Winter Mini Sessions
Winter mini sessions are all about the holidays. Christmas sessions start early to make sure I can fit everyone in. Sessions fill up extremely fast, so be sure to check these out as soon as you can.
Spring Mini Sessions
Spring is the time I celebrate flowers and all things spring. This is such a pretty time of year and I love to mirror that in the studio.
"Linda made it so relaxing and enjoyable!"
– Janelle H.

Fall Family Photos
If you're looking for Fall Family Photos and would like to see this year's schedule, click the link below. You'll be able to choose your location and sign up online.