Christmas Mini Sessions
Winter mini sessions are all about the holidays. Christmas is in full swing in the studio starting in November and I really can't get enough! Every year, I have several options in the studio for both kids and the whole family.

Christmas is a time for joy, magic and wonder in the studio and I encourage kids to play with the props and have fun with the set pieces. I really love it when the kids are having fun and I get to capture the joy on their faces.

This year, I had to narrow down the sets to just seven. I know, that might sound like a lot, but there were over 15 that I really wanted to do, so I think I did alright by narrowing it down.

Christmas mini sessions fill up extremely fast every year, so if you see a session or two that you would love, be sure to book it quickly.
Snowy Tree Farm
It's pretty rare that I bring back a set after it's done, but this Snowy Tree Farm was such a hit last year that I couldn't resist setting it up again. This set is perfect for the whole family!

Set pieces for the Tree Farm include a vintage sled, Santa's mailbox, giant ornaments, teddy bears and even seating for the adults.
Santa's Workshop
Santa's coming to the studio again this year and I can't wait! This year, Santa has brought some tools from his workshop and your little one can build a toy right alongside the big man himself!

Santa's workshop is set up for your child to hammer, glue, paint and create a wooden toy of their very own. This special session is perfect for creating those lasting childhood memories with Santa in his workshop.
Baking With Mrs. Claus
Baking is just one of those things that makes it feel like Christmas. This year, I've asked Mrs. Claus to come bake in the studio and she's graciously agreed. These sessions are all about creating that connection with the Claus family and baking cookies with Mrs. Claus.

This session includes an unforgettable experience with Mrs. Claus and some delicious cookies to take home.
Christmas Cuddles
If you missed this session last year, don't worry! I've brought it back!
This session is great for the whole family. The queen sized bed is perfect for cuddles and smiles and works well for even the shy kiddos. You can cuddle up in a blanket, sip on some hot coco and get all those Mommy and Daddy cuddles that make for the best pictures.
Beach Christmas
These beach Christmas mini sessions are super fun and I'm so excited to offer them this year. Rather than heading to the cold beach this winter, I'm bringing the beach to you. Real sand without the wind…it's a winner in my book!

This set will feature real sand as well as gift boxes and Christmas beach balls (yep, that's a thing).
Christmas Cookies
This set is a fan favorite from a few years ago. I've decided to bring it back because families had so much fun with it and I just can't resist a good time. This set is for families to have fun tossing flour at each other or just adding a dab to the end of a nose. Kids will have a blast rolling out the dough and cutting out their own cookies.

Aprons are available if you'd like to use one.
Mini Sessions For Every Season
Each season has a different feel and your pictures should too! See all upcoming sessions at the link below, or browse by season by following the links here.
Fall Mini Sessions
Fall mini sessions are all about…you guessed it…FALL! These sessions celebrate the change of the seasons in all the right ways. Let's get all the fall feels here!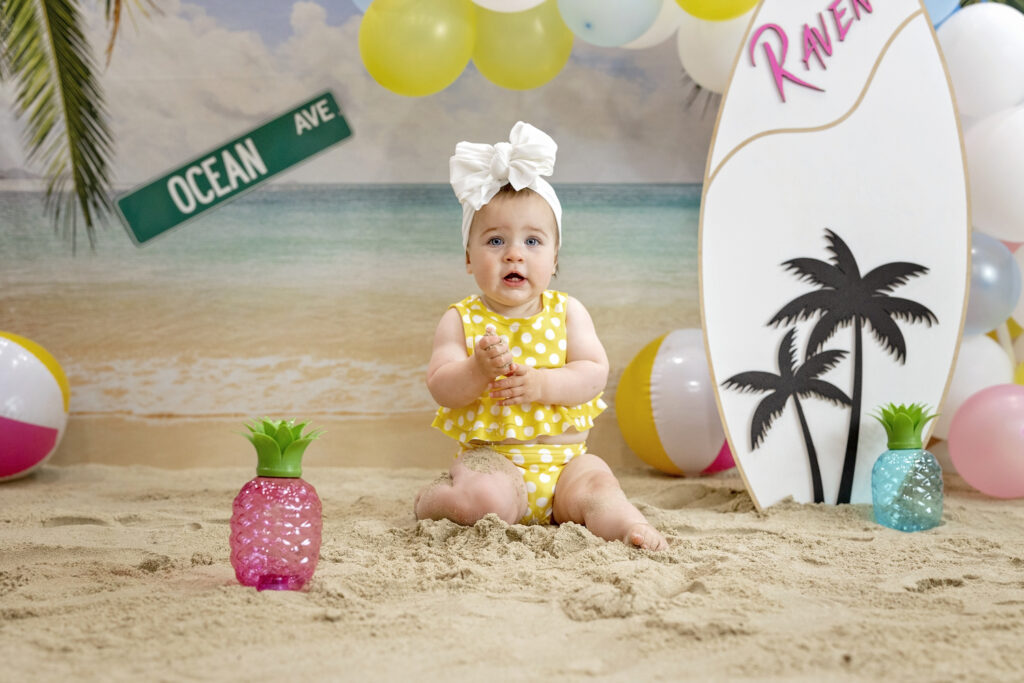 Summer Mini Sessions
Winter mini sessions are all about the holidays. Christmas sessions start early to make sure I can fit everyone in. Sessions fill up extremely fast, so be sure to check these out as soon as you can.
Spring Mini Sessions
Spring is the time I celebrate flowers and all things spring. This is such a pretty time of year and I love to mirror that in the studio.
"I had the best time working with Linda. She made the whole process super fun."
– Tiffany W.

Fall Family Photos
If you're looking for Fall Family Photos and would like to see this year's schedule, click the link below. You'll be able to choose your location and sign up online.