Cake Smash Sessions
Cake Smash sessions are a fun way to celebrate your little one's first birthday. While they are typically done for the first birthday, I've had some clients come for the second or third birthday as well. No matter what the occasion, we always have fun in the studio.

Designing The Set

Cake smash photo sessions are much more than just the cake. First, a set is custom designed with your color choices and various props. I like to use balloons in the background and bring out some toys that coordinate with the colors of the session. Sometimes I'll use a floral garland with some twinkle lights. Other times, we might go with a fishing boat or some teddy bears. It all depends on what you would like. We can go as big or simple as you like.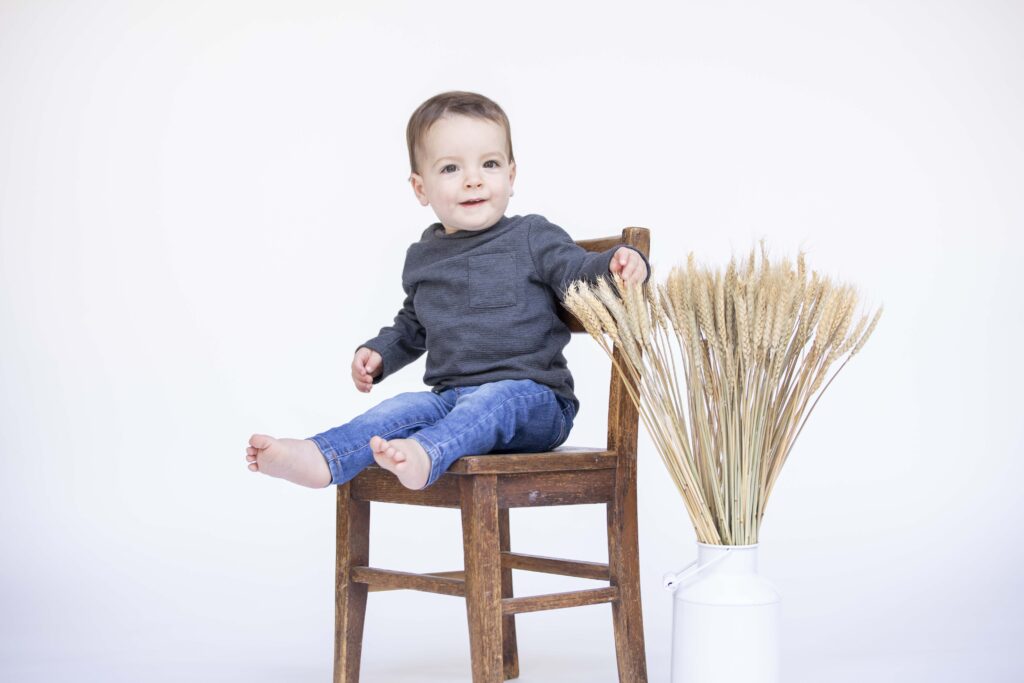 Photo Shoot

After the set is designed and all set up, we'll get to the photos. The first half of the photo session is dedicated to getting some adorable pictures of your little one simply having fun. We play a lot of peek-a-boo and sing some favorite songs to get those smiles. I like to let kids play with the props a little bit and get comfortable in the studio space. This helps with the smiles and getting the genuine reactions that you love to see.
Cake Smash

Finally, we break out the cake. You are welcome to bring any sized cake you would like, but I recommend a 6″ cake. I have several cake stands to suit any photoshoot, so you won't need to bring one (unless you have one you love). Most kiddos don't quite know what to do with the cake when they see it. They don't always dig in right away. Most sessions involve Mom helping the process a little bit to get things started. It usually doesn't take long for the fun and wonder to begin after that.
After The Photoshoot
After we're all done with photos, I'll have plenty of wipes to clean up with. You're welcome to take home any balloons and extra cake. Then, I'll get to work on your photos! You can usually expect to see your photos 1-2 weeks after your photo session. You'll be able to see your entire gallery before choosing your favorites and you are free to share your gallery with family and friends.
I'm so excited to see you and your munchkin in the studio soon! Let's have some fun!
Ready To Book?
Let's Chat!
For custom cakes, I love Christine's Cake Creations in Paso Robles.
See more from the Elegant Spring Cake Smash Session.
Check out all the backdrops I have in the studio here.
Are you looking for a newborn session? My newborn page is here.
If you're interested in a family session, you can easily book online or message me to chat about what you are looking for.