This little cutie did ana amazing job for her very first Easter photo session. At just 5 months old, she was all smiles while being the most adorable little bunny! We ended up doing two different Easter photo sessions with her and she did great for both.
Very Bunny Easter Mini
With two different Easter Mini Sessions to choose from, this family couldn't decide. So they did the very best thing. They chose both! Little Miss was all smiles for the Very Bunny Mini Session. She did an amazing job with all the prop changes and several adults trying to get her to smile.
We were a little worried that she wouldn't love the experience because nap time did not go as planned that day. But she had fun and she got to explore her surroundings just the right amount.
Chocolate Bunny Mini Session
The next session for this little one was Chocolate Bunny themed. She did great for this session as well! She had two of the cutest little dresses for her Easter photos! There wasn't even any complaining when it was time to change outfits.
Again, nap time did not go as planned. This time, she didn't last quite as long for pictures, but I think the ones we got are pretty darn cute. I'm really excited to see this little one grow. I'm sure she's destined to become quite the character and I can't wait to hear all the adorable things she'll soon be saying.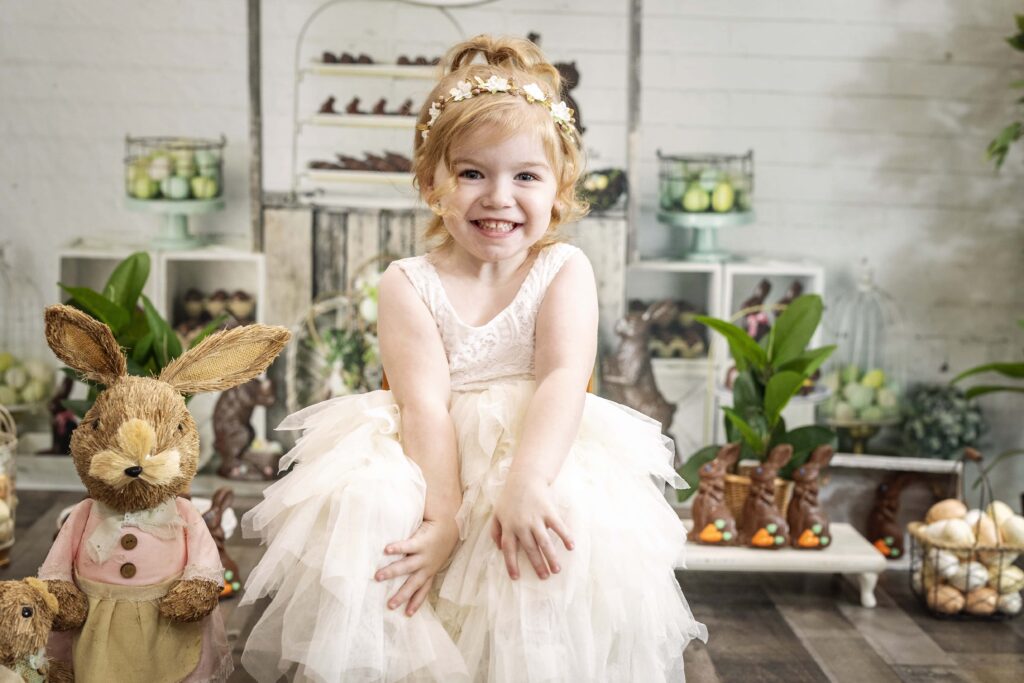 Chocolate Easter Mini
This adorable Easter Mini Session was so fun! Check out this little cutie and all her adorable smiles.
Looking for an Easter dress?
I just love this dress and I think it would be perfect for and Easter photo shoot or really any photo shoot! It's from Mia Belle Girls.