Cake Smash Ideas
Cake smash sessions are so fun for everyone involved. The birthday boy or girl has a blast with their very own cake and parents love to see the joy on the face of their little one. Taking that first bit of cake is a learning experience all by itself! You can almost see the wheels turning when little ones process the taste. It's really fun to watch and even more fun to photograph!

I love cake smash sessions. They are some of my favorite types of sessions to photograph and design. I always have a blast with them. In fact, the first time I decided to bring the beach inside was for a cake smash session. I bought 300 pounds of sand and spread it all over my studio floor. I loved it!

Coming up with ideas for cake smash sessions can seem almost impossible with so many cute options. That's why most of my cake smash sessions are custom designed. But if you're looking for inspiration, you've come to the right place. In this post, you'll find examples of sessions I've done as well as links to the full post about those sessions with even more pictures. So let's get to it!
Cake Smash Ideas For Girls
The cake smash sessions I do for girls tend to be on the softer side for colors. More pastel colors and floral designs tend to be preferred among parents of girls for their background designs.

Of course, bold colors can certainly work well for girls too! Most of my cake smash sessions include two different designed sets. This allows for one lighter colored background and one with a more bold feel to it. Whatever you are interested in, we can make it happen.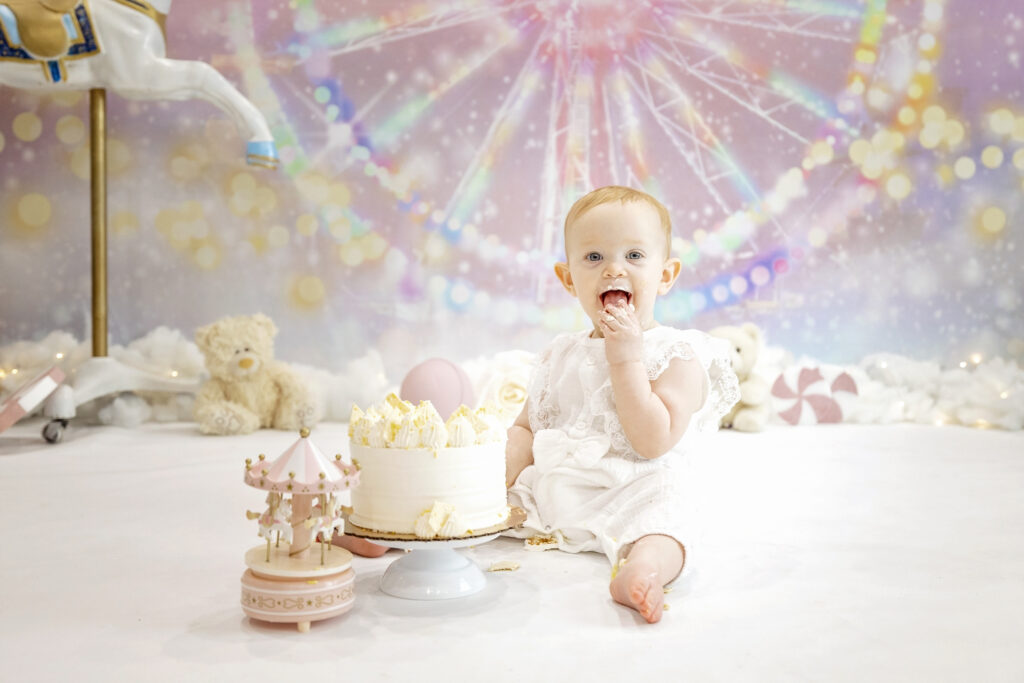 Favorites for Girls
Here are just a few of my favorite images from some recent cake smash sessions with girls. I can honestly say, that I have loved every single design we came up with for these sessions. Usually, the parents have an idea of what they would like and we work together to create something unique that fits their child's personality.
Cake Smash Ideas For Boys
Boys are all about the bold colors and big toys. At one year old, most boys love dinosaurs, trucks and the beach, of course. Primary colors tend to work really well, but pastel colors can work as well.

As with the girls, I work closely with parents to custom design a cake smash session that will fit the personality of the child.
Favorites For Boys
Depending on the time of year, seasonal elements can work really well for cake smash sessions. Fall colors work well with a woodland theme. Summer is all about the beach in California, so bringing those elements in can be a lot of fun. Whatever you are looking for, I'm sure we can create the perfect photo session together!